"[I]On Saturday, May 5 – the comic book industry once again celebrates Free Comic Book Day!
The annual event is the perfect opportunity to introduce your friends and family to the many worlds of wonder available at your local comic book store. From super-heroes to slice-of-life to action/adventure and beyond, Free Comic Book Day has a comic book for everyone![/I]"
For those that don't know this has been a yearly event for quite a while now and is a good opportunity to go pick up some comics for free that you necessarily wouldn't normally.
Check out here to see what shops are participating:
http://www.freecomicbookday.com/fcbd_locator.asp
And here is the list of comics:
Archie
Little Archie "THE Legend of the Lost Lagoon" #1—FCBD EDITION
by Bob Bolling
Little Archie, several campers and two counselors are boating on Loon Lake when they are suddenly caught in a dangerous storm. A golden owl, thought only to be a legend, directs them to the safety of a hidden tunnel that leads them to yet another legend, The Lost Lagoon!
32pgs, FC FREE
Bongo
BONGO COMICS FREE-FOR-ALL! 2007—FCBD EDITION
by Matt Groening
The comic company that brings you The Simpsons and Futurama in the fantastic four-color format joins the ranks of promotion-seeking publishers on Free Comic Book Day by joining with retailers to reel in new readers, with a comic cornucopia of tantalizing tidbits and a spectacular sampling of the best in humor comics!
32pgs, FC FREE
Dark Horse
THE UMBRELLA ACADEMY / ZERO KILLER / PANTHEON CITY—FCBD EDITION
by Various
Three for the price of… none? Conceived and written by My Chemical Romance front man Gerard Way, The Umbrella Academy features interior art by Gabriel Bá (Casanova) and Dave Stewart (Hellboy), and covers by multiple-Eisner-Award-winning artist James Jean (Fables). The Umbrella Academy debuts with a 12-page story set before the start of the upcoming series. This issue also features sneak-peeks of two other upcoming Dark Horse titles: Zero Killer, by Rex Mundi creator Arvid Nelson and Matt Camp (Shadows), and Pantheon City, written by Ron Marz (Samurai: Heaven and Earth) and drawn by Clement Sauve (Stormwatch)!
32pgs, FC FREE
DC Comics
THE LEGION OF SUPER-HEROES IN THE 31st CENTURY #1—FCBD EDITION
by J. Torres & Chynna Clugston-Flores
An all-new, all-ages Johnny DC series spinning out of the smash-hit animated series on Kids WB! starring Superman and the Legion of Super-Heroes! In this debut issue, the Legion travels back in time for reinforcements to stop the Fatal Five from destroying Metropolis, because this looks like a job for… Clark Kent?! Can six teenagers from the future help a mild-mannered teenager become the Man of Steel, or will the Fatal Five determine his destiny before it's even begun?
32pgs, FC FREE
Dynamite
THE LONE RANGER / NEW BATTLESTAR GALATICA FLIP BOOK—FCBD EDITION
by Various
Dynamite Entertainment proudly presents their first FREE COMIC BOOK DAY comic featuring: Battlestar Galactica: Year One #0 beginning a brand new story from the creative team of Brandon Jerwa and Stephen Segovia! Taking place before the events of the now-classic SCI FI series, Year One presents a "season zero" that introduces us to the cast and crew of the Galactica as they face new challenges and threats, all under the watchful eye of the Cylons! On the flip side, Lone Ranger: The Creed #0 presents a special tale in which the immortal words of the Lone Ranger's Creed help to narrate the story! PLUS: Previews of Red Sonja, Painkiller Jane, Highlander and Raise the Dead!
32pgs, FC FREE
Gemstone
WALT DISNEY'S Mickey Mouse—FCBD EDITION
2006 Eisner Award Hall of Fame honoree Floyd Gottfredson brings you the Mickey Mouse you love: a two-fisted scrapper in a jaw-dropping epic! "The Robin Hood Adventure" takes our hero to Medieval times, where he must prove himself a warrior — sword-fighting, jousting, and risking his life to rob the rich! And then there's that little matter of marriage to one of Minnie's ancestors… ods bodkins!
32pgs, FC FREE
IDW
TRANSFORMERS: The Movie Prequel—FCBD EDITION
by Simon Furman & Chris Ryall, & Don Figueroa
Before the live-action Transformers movie spectacularly explodes onto theater screens in July, read the official beginning of the story right here! In this prequel to the film, "Prime Directive," travel from Cybertron to Earth to witness the events that lead to the Transformers bringing their war to our world! This special Free Comic Book Day edition features issue #1 of this prelude, as well as additional art from series artist Figueroa.
32pgs, FC FREE
Image
The Astounding Wolf-Man #1
by Robert Kirkman & Jason Howard
When Gary Hampton is mauled and left for dead — his life takes a drastic turn. Gary is cursed — when the moon is full he transforms into a beast of the night — a werewolf! But this curse will not be used for evil — witness the birth or the world's most unlikely new superhero — The Astounding Wolf-Man! Don't miss Robert (Invincible, The Walking Dead) Kirkman's new series from Image Comics! It all starts Right Here for FREE!
32pgs, FC FREE
Marvel
AMAZING SPIDER-MAN: SWING SHIFT—FCBD EDITION
by Dan Slott, Phil Jimenez, & Andy Lanning
All-New Story & Art by an All-Star Creative Team! Fan-favorite writer Dan (Civil War: The Initiative; She-Hulk) Slott and Superstar Artist Phil (New X-Men, Infinte Crisis) Jimenez bring you a brand new taleof danger and intrigue starring your favorite web-slinger… a tale that may just come back to haunt Spidey in the coming months! Cover by Phil Jimenez.
32pgs, FC FREE
Tokyopop
TOKYOPOP CHOOSE YOUR WEAPON 2007—FCBD EDITION
by Various
Need a little 'tude with your manga? Tokyopop is proud to present five titles for your fighting pleasure — Utopia's Avengers, Phantom, Gyakushu!, Archlord, and Warcraft:The Sunwell Triology—Ghostlands… series filled with bone-crushing art, mesmerizing action, and even exclusive downloads and contest at the Tokyopop website!
SC, 5x7, B&W FREE
Antarctic
PIRATES VS. NINJAS #1—FCBD EDITION
by Fred Perry & Wes Hartman, & Craig Babiar
Featuring a flip cover by Fred Perry and special FCBD-only material! It's no secret that pirates and ninjas have always been at odds. At long last, two of history's most formidable opponents in physical combat will meet on the field of destiny for the ultimate showdown. Throughout the millennia, these natural enemies have left death and despair in their wake. Now, they face each other to battle for supremacy. Let the greatest battle of all time commence!
32pgs, B&W FREE
Ape Entertainment
APE ENTERTAINMENT's COMIC SPECTACULAR—FCBD EDITION
by Various
Ape Entertainment proudly presents six new, all-original short stories featuring fan favorites Athena Voltaire, Go-Go Gorilla & the Jungle Crew, and Teddy Scares, as well as the first appearances of Bizarre New World, The Goblin Chronicles, and White Picket Fences. Industry talents include: Tone Rodriquez, Micah Farritor, Steve Bryant, David Hedgecock and many more in this spectacular "Free Comic Book Day" event! NOTE: The cover artwork provided is not final cover artwork.
32pgs, FC FREE
Arcana Studio
ARCANA STUDIO Presents—FCBD EDITION
by Various
Arcana Studio Presents three all-new stories featuring the gothic demon hunter Kade, the sci-fi sensation, 100 Girls, and the all-ages fairy tale Clockwork Girl! Always striving for the best, this year's Arcana Studio Presents will feature a flip cover by interior artists Stjepan (Kade, Witchblade) Sejic and Todd (100 Girls, Star Wars) Demong. 32 pages of pulse pounding action and adventure await inside this high quality book… as well a sneak peak of the upcoming titles that Arcana will be producing in the not-too-distant future!
32pgs, FC FREE
ARCHIE
SONIC THE HEDGEHOG—FCBD EDITION
by Ian Flynn, Tracy Yardley, & Jim Amash
"Unburying the Hatchet": What could be better than Dr. Eggman's killer robot, Metal Sonic? How about the real thing! What has turned Sonic against his friends in Knothole, and who among our heroes has to power to stop the true blue hero-gone-bad? Fiercely free cover by Spaz!
32pgs, FC FREE
Aspen, MLT
WORLDS OF ASPEN 2007—FCBD EDITION
by Michael Turner & Various
Aspen celebrates Free Comic Book Day 2007 with the release of their second Worlds of Aspen title! This comic features the best that Aspen has to offer, from Fathom to Soulfire, and everything in between. Also included is the break-out hit series, Shrugged, and the premiere of a brand new Aspen series! This incredible issue is not to be missed! With art and stories by Aspen's best, including Michael Turner, J.T. Krul, Peter Steigerwald, Micah Gunnell, Marcus To, and more, this is your chance to introduce the worlds of Aspen to comic book fans everywhere! Brand new cover by Michael Turner!
32pgs, FC FREE
Blatant Comics
LAST BLOOD #1—FCBD EDITION
by Bobby Crosby & Owen Gieni
After zombies take over the Earth, vampires must protect the last surviving humans so they can live off their blood. This ongoing horror series begins with a thrill-packed free first issue virtually guaranteed to hook you on the zombie vs. vampire action of Last Blood. Good to the last drop!
32pgs, B&W FREE
BOOM! Studios
HUNTER'S MOON / SALVADOR flip book—FCBD EDITION
On the first side, a slice of Hunter's Moon, written by the writer of the Academy Award-winning film Ray, James L. White! On the second side, a slice of Salvador, written by the writer-producer-director team from The Astronaut Farmer, The Polish Brothers! A unique combination of two high-profile, high-quality projects that will appeal to new customers and old fans — are the kids coming into the store to pick up free Marvel and DC comics? Make sure their parents get a copy of this flip book, to see how Hollywood talent is flocking to the medium, and how ground-breaking new graphic novel material is changing the world of comics!
32pgs, B&W FREE
Castle Rain
JACK THE LANTERN: GHOSTS 2007—FCBD EDITION
by Angelos, Vigil, Beck & Bledsoe
Following on the heels of the acclaimed Jack: 1942—FCBD Edition, this is the story of Jack Corby, a man possessed by the otherworld demon Argotakar. His quest for redemption continues in a new mini-series that features the dynamic art team of Tim (Faust) Vigil, Jerry Beck (Something Wicked) and Tony Bledsoe (American Wasteland)! Already optioned for a motion picture and forthcoming action figures, Jack the Lantern blends gritty dark fantasy and magic realism that create a cinematic experience.
MATURE THEMES
32pgs, FC FREE
Comic Genesis
COMICGENESIS 2007—FCBD EDITION
ComicGenesis.com is the #1 free webhosting and automation service for aspiring comic creators, hosting nearly 10,000 different webcomics! This packed 48-page special presents a sampling of material from the ComicGen community's most exciting new creators. Plus, learn how you can create your own webcomic and get it hosted for free by Comic Genesis! Cover by Aimee "Humbug" Chow ( talesofpylea.comicgenesis.com).
48pgs, B&W FREE
CSN
COMIC SHOP NEWS 2007 FCBD Special
This special-stand-alone issue of Comic Shop News will help FCBD visitors become regular comics readers and will spotlight comics and the movies and feature Spider-Man (who will be on the cover) as well as the many other comics that have made it to (and from) the silver screen, and the small screen as well. The offer of a free comic and excitement of the Spider-Man 3 movie will bring in potential new readers on Free Comic Book Day. The Comic Shop News FCBD Special is designed to encourage them to return again to comic shops. NOTE: The CSN FCBD Special ships in bundles of 50 and 100.
Tabloid, FC FREE
DC Comics
JUSTICE LEAGUE OF AMERICA #0—FCBD EDITION
by Brad Meltzer & Various
Best-selling author Brad Meltzer broke the JLA down in the top-selling, critically acclaimed Identity Crisis — and now he puts all the pieces back together again! The core heroes of the DC Universe, Superman, Batman and Wonder Woman, are back — but after the events of Infinite Crisis, where do they stand with each other? Here's the definitive answer! Join us for this historic and unforgettable new beginning of the Justice League of America as we look at the past, present and future of the World's Greatest Super Heroes!
32pgs, FC FREE
Devil's Due
FAMILY GUY / HACK/SLASH FLIP BOOK—FCBD EDITION
FG: Matt Fleckenstein & Various; H/S: Tim Seeley & Emily Stone
The Family Guy steps off of the TV screen and into this Free Comic Book Day edition from Devil's Due! Peter, Brian, Stewie and the rest of the Family Guy crew provide more uplifting, wholesome adventures that will edify and educate the masses. Yeah, right! Plus, a bonus flip book feature Hack/Slash! At the end of every slasher movie, one girl always survives… But, what if that girl then became a hunter of Slashers? That girl is Cassie Hack, star of Hack/Slash — soon to be a major motion picture from Rogue Studios! (Rating: 14+)
32pgs, FC FREE
Digital Webbing
DIGITAL WEBBING JAM 2007—FCBD EDITION
by Various
Showcasing the full line of Digital Webbing comics with brand-new and re-mastered short stories featuring the popular BloodRayne (based on the video game character), the iconic E-Man, also including cult favorites Fist of Justice and Zombie Highway! Plus, get sneak peeks at upcoming titles Crazy Mary, and Joshua Fialkov and Kody Chamberlain's Punks! All encased within a must-have wraparound jam cover by their respective artists!
32pgs, B&W FREE
DRAWN + QUARTERLY
LYNDA BARRY EXTRAVAGANZA—FCBD EDITION
Lynda Barry is one of the best known contemporary cartoonists — her comic is syndicated in numerous weeklies and has been read faithfully by thousands for almost 30 years. She got her start in the late '70s when her then-schoolmate (a certain fellow by the name of Matt Groening) published her first comic in the school newspaper and the rest, as they say, is history. This all ages, all-Lynda Barry Free Comic Day issue will be an excellent sampler of the work of this legendary cartoonist and will provide a sneak peak at what's in store from D+Q and Lynda Barry in the months and years ahead. Features an all-new cover by Lynda Barry!
32pgs, B&W FREE
Fantagraphics
THE UNSEEN PEANUTS—FCBD EDITION
by Charles M. Schulz
Charles M. Schulz's Peanuts is the most-reprinted comic strip of all time, with literally hundreds of collections published in the last 50 years. You would expect that by now every Peanuts strip has been collected more than once… and you'd be very wrong! In fact, hundreds of Peanuts strips were never reprinted. The Complete Peanuts has been rectifying this, and The Unseen Peanuts is a special collection of over 100 of these rarities. It's a great introduction of the strip to new readers, and a fascinating trove of rarities that will surprise and delight even the most diligent Peanuts — a perfect sampler for both neophyte and old hand!
32pgs, B&W FREE
:01 SECOND
THE TRAIN WAS BANG ON TIME—FCBD EDITION
AN EPISODE FROM THE BLACK DIAMOND DETECTIVE AGENCY
by Mr. Eddie Campbell
First Second Books celebrates Free Comic Book Day with a preview of the graphic novel The Train Was Bang On Time: An Episode from The Black Diamond Detective Agency by Mr. Eddie Campbell, to be published later this spring. It's a tale of robbery, explosions, and terror in America's heartland at the turn of the twentieth century.
32pgs, B&W FREE
HEROIC
LIBERTY COMICS #0—FCBD EDITION
by Various
The Golden Age of Comics lives again in this special preview #0 issue of Heroic Publishing's upcoming new title, Liberty Comics, featuring four complete Golden Age adventures of America's bronze goddess of freedom, the Liberty Girl! "Last Gas for the Fatherland" features story and artwork by Billy (Shi) Tucci; "Chicago, 1938" is by Henry Vogel and Mark Propst; "Liberty Girl Meets the Cactus Man" is by Dennis Mallonee and Andrew Pepoy; and "Liberty Girl and the Japanese Demon" is by Mike W. Barr and Rob Jones.
32pgs, FC FREE
IMPACT
IMPACT UNIVERSITY VOLUME 3—FCBD EDITION
Impact University Volume 3 is a sampler of stand-alone lessons taken from our upcoming books on creating comics, manga and fantasy art. The name, Impact University, comes from the panel run each year at ComicCon International. Previous FCBD volumes have included contributions from a Who's Who of industry professionals, including Will Eisner, Peter David, Sean Chen, Matt Haley, Buddy Scalera, and Greg Land. This year's edition will include lessons from the following creators: Gail Simone, Colleen Doran, Tom Nguyen, J. "Neondragon" Peffer, Jim Pavelec , Jason Cheeseman-Meyer.
32pgs, B&W FREE
KEENSPOT
KEENSPOT SPOTLIGHT 2007—FCBD EDITION
The 6th annual Keenspot Spotlight! It's 104 pages packed to the staples with diverse comics of all styles and genres, showcasing Keenspot's media-spanning line of comics. There's something for everyone here! Cover by Remy "Eisu" Mokhtar (No Pink Ponies) and various!
104pgs, B&W FREE
Legion of Evil Press
COMICS FESTIVAL! 2007—FCBD EDITION
by Various
It's time again for Comics Festival!, the most exciting FCBD title of the year! Featuring new stories from Darwyn Cooke (The New Frontier), Bryan Lee O'Malley (Scott Pilgrim), Hope Larson (Salamander Dream), Chip Zdarsky, Michael Cho, and a host of great Canadian cartoonists (including a full-color section!), Comics Festival! 2007 is the FCBD book not to be missed!
32pgs, PC FREE
Maerkle Press
LOVE AND CAPES—FCBD EDITION
Comicdom's newest favorite super couple is back, and they've got super problems! The Crusader is trying to figure out why a guy dressed in a spider suit is getting all the attention, while Abby is dealing with Amazonia's attempts to throw a monkey wrench into the relationship. All this, and big summer fun, in this all-new Free Comic Book Day issue!
32pgs, FC FREE
Marvel Comics
MARVEL ADVENTURES THREE-IN-ONE—FCBD EDITION
by Fred Van Lente & Paul Benjamin, & James Cordeiro
All-New Stories! First, Tony Stark must find out who or what is behind a mysterious series of thefts at Stark International of Brazil, but is the answer more than his alter-ego, the Invincible Iron Man, can handle? And in our second feature, brilliant scientist Bruce Banner has a secret side to his personality — an alter ego that's capable of causing mass destruction — The Incredible Hulk! Can he keep the gamma-powered monster at bay while on the run from the authorities? PLUS: We've got a story featuring Eisner-Nominated Franklin Richards! Son of a Genius! Cover by David Nakayama.
32pgs, FC FREE
ONI PRESS
WHITEOUT #1—FCBD EDITION
by Greg Rucka & Steve Lieber
Oni Press and the Eisner-winning team of Greg Rucka and Steve Lieber are pleased to offer the first issue of one of the most critically acclaimed indy comics series of the last decade! U.S. Marshal Carrie Stetko is the lawwoman charged with maintaining order in the snowy wasteland of Antarctica, but when someone commits murder on "The Ice," will Carrie be able to find the culprit?
32pgs, B&W FREE
Renaissance Press
AMELIA RULES!: HANGIN' OUT—FCBD EDITION
by Jimmy Gownley
Hot on the heals of it's successful graphic novel launch, Amelia Rules! returns for Free Comic Book Day! Amelia Rules!: Hangin' Out contains a brand-new story featuring all the trademark Amelia wit and wistfulness. This Multiple Eisner-nominee is the perfect title to introduce kids of all ages to comic books. Also featured in his issue is a full-color preview of Renaissance Press's upcoming title Apathy Kat."
32pgs, FC FREE
RUDE DUDE
NEXUS SPECIAL—FCBD EDITION
by Mike Baron & Steve Rude
"Space Opera," the four-part Nexus story beginning in July, is an ideal jumping-on spot for new readers. Deftly combining back story with Nexus' present, Baron and Rude take the readers on a fantastic journey into the heart of darkness. Cataclysmic events will forever change the Nexus universe; Major characters will die; New characters will emerge. Nexus is one of the most honored comic books of all time and this new adventure will thrust Nexus to the forefront of graphic literature! Just keep telling yourself: it's only a comic book.
24pgs, FC FREE
Sky-Dog Press
BUZZBOY / ROBOY RED: THE BUZZ & THE 'BOT #0—FCBD 2007 EDITION
by John Gallagher & Rich Faber
Sky-Dog Press joins the 2007 FCBD celebration with two all-new, fun and fantastic tales for kids of all ages — plus comic how-to's and a create-your-own-hero contest! Buzzboy is a milkshake drinking, cheeseburger chomping, super sidekick! Roboy Red is a runaway robot with a heart of gold — a thermonuclear-powered mechanical mite! This special zero issue presents the untold origins of both Buzzboy and Roboy, and is a great way to introduce young readers to the magic of comics!
32pgs, B&W FREE
Too Hip Gotta Go
WAHOO MORRIS#1—FCBD EDITION
This FCBD Edition reprints Wahoo Morris #1, the first chapter of Wahoo Morris Book One TP. The story of a college radio indie rock band trying to make it, this critically acclaimed series will appeal to readers of Strangers In Paradise, Love & Rockets, and other character-driven comics.
32pgs, B&W FREE
Top Shelf
OWLY & KORGI—FCBD EDITION
by Andy Runton & Christian Slade
Top Shelf is proud to join the 2007 Free Comic Book Day celebration with not one, but two all-ages tales! First, from the fan-favorite series, Owly by Andy Runton, comes the all-new story "Helping Hands." Springtime has arrived, and Owly must use his past to help a new friend face her fears. Following that is a special bonus — the first appearance of the new all-ages series Korgi, by Christian Slade! The first volume of the Korgi graphic novel series will hit stores simultaneously with this FCBD edition, and "Sprout's Lost Cookie" will give readers their first glimpse of this gorgeously illustrated woodland fantasy about a young girl Ivy, her dog Sprout, and their amazing adventures in Korgi Hollow. This is a special 2-in-1 package that everyone will want to read and save. Perfect for the kid in all of us.
32pgs, B&W FREE
TWO MORROWS PUBLISHING
COMICS 101: HOW-TO & HISTORY LESSONS FROM THE PROS—FCBD EDITION
As the industry authority on comics history and creation, TwoMorrows has tapped the combined knowledge of its editors to assemble an all-new 32-page comics primer, created just for Free Comic Book Day! You'll learn: "Figure Drawing" and "How To Break Down A Story" from Draw! Magazine's Mike Manley and Bret Blevins; "Writing Tips" from Write Now! Magazine's Danny Fingeroth; Rough Stuff Magazine editor Bob McLeod provides "Art Critiques" of promising newcomers; and there's even a "Comics History Crash-Course" assembled by Alter Ego Magazine editor Roy Thomas and Michael Eury, editor of Back-Issue Magazine! These top pros will cover the basics of comics art and appreciation, making it a must-have item for fans old and new!
32pgs, B&W FREE
VIPER COMICS
VIPER COMICS PRESENTS: JOSH HOWARD'S SASQUATCH AND MORE—FCBD EDITION
Nowadays getting something for nothing is harder than ever, but apparently Viper Comics doesn't believe so! Enjoy a sneak-peak of upcoming Viper hits in their Free Comic Book Day exclusive, including Josh Howard Presents: Sasquatch, The Underworld Railroad, Oddly Normal Vol. 2, Karma Inc. Vol. 2, The Middleman Vol. 3, and future excerpts of the Dead@17 ongoing series… all for the low price of NOTHING, ZILCH, NADA!
32pgs, B&W FREE
VIRGIN COMICS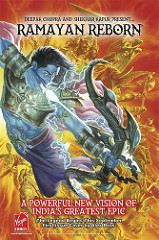 VIRGIN COMICS SAMPLER—FCBD EDITION
by Various
This Free Comic Book Day, explore the worlds of Virgin Comics with a 32 page special, featuring a cover by Alex Ross! Get hip to the hottest new comic book company around, and find out what the buzz is all about! Out of the pages of Ramayan 3392AD, Devi, The Walk-In, and other great Virgin books, this FCBD edition brings incredible action and storytelling from our groundbreaking titles. Experience the unknown with Virgin Comics!
32pgs, FC FREE
Wildcard Ink
(Not final cover)
GUMBY SPECIAL—FCBD EDITION
by Shannon Wheeler, Bob Burden, Rick Geary, Mark Bode, & Steve Oliff
Gumby has to stop thieves from stealing art from the traveling art show. He does this by jumping into and bringing to life the characters from various paintings. The surprise ending comes when Gumby finds the new wing of the museum is dedicated to comic book art! Written by Eisner Award-winner and holder of the only comic Opera of his work, Shannon Wheeler, along with Bob Burden, Rick Geary, Mark Bode,and Steve Oliff!
32pgs, B&W FREE
WIZARD
WIZARD'S "HOW TO DRAW" SAMPLER—FCBD EDITION THE BEST OF WIZARD'S "BASIC TRAINING" ART LESSONS
Because you demanded it, Wizard: The Comics Magazine has collected 15 years of its award-winning art lessons into one "How to Draw" book series! Learn the basics with Heroic Anatomy; figure drawing in Character Creation; page layout and story tips in Storytelling; and covers, inking, coloring and more in Advanced Techniques! With this FCBD sampler, you get an inside peek at each one of these "How to Draw" books with art lessons from your favorite comic book creators. It's Wizard's ultimate resource for aspiring comic book creators, and the sneak peek is absolutely free!
32pgs, FC FREE\
ZENESCOPE
DYNO-FORCE PREVIEW—FCBD EDITION
by Joe Brusha, Julian Aguilera, & Thomas Mason
For over 165 million years, dinosaurs ruled the Earth… until the alien overlord Zalex discovered the planet 100 million years ago. In search of an army to conquer the universe, Zalex finds in Earth's Jurassic reptiles the perfect candidates to mutate into his ultimate soldiers. With his new army, nothing can stop Zalex from ruling the galaxy and the universe beyond it… nothing but a team of mutated dinosaur heroes named Dyno-Force! Don't miss this exciting prequel issue featuring what's sure to be the hottest team of mutated reptiles to grace the four-color world in three decades. The first title in Zenescope Entertainment's new Gold line!
32pgs, FC FREE
Phew, anyway, for various reasons I wouldn't expect the stores to have all of these and the covers are subject to change.
Also, if possible I would recommend picking up the keenspot one if you like webcomics at all, I've got the last few and they're a good read with loads of different webcomics (They are like 50 different comics in it), also, to a lesser extent the comic genesis one is worth getting too for the same reason.